How to Search Outlook Emails by Time ? Easiest Method
Warren George, Germany – After fingerprints, the new evidence in the case is Emails. I am a forensic investigator working on a case of data theft. The organization claims that someone from inside has stolen the details of the upcoming project. Also, he/she shared it with our rival organization. They are a company of about 200 employees. Now, the current situation is that I need to verify some employees emails at a particular time. I want to know how can I search Outlook emails by time? Please guide with the complete procedure.
MS Outlook includes a search feature that enables you to locate emails from a specific date. However, what if someone needs to track Outlook emails by date, for example, emails sent between 07/28/19 and 10:30 am? We offer the most effective method for searching sent / deleted / received emails in MS Outlook by date. This solution will undoubtedly simplify and expedite your task. Therefore, read the article to learn the entire procedure for filtering emails in Outlook by a certain time period.
Easygoing Solution to Search Outlook Emails by Time
4n6 Outlook Email Viewer is a professional solution for managing Microsoft Outlook emails in a timely manner. It looks for emails with properly maintained email properties. The tool generates 100% accurate results. Any user has access to this product, which allows them to filter Outlook emails by date. Let's take the following steps to achieve messages with attachments from your Outlook profile based on the date and time they were sent:
Steps to Search Outlook Emails by Time
Download and install the setup file of ForensikSoft Outlook Email Forensics Software. It is a free-of-cost solution, having none of the viruses or malware present in it.

After the complete installation of the freeware, launch it and then, hit on Open File >> Open Configured Outlook Data File. Select the profile in which searching mechanism needs to be accomplished.

If needed then, preview Microsoft Outlook emails, calendars, address book information, etc. Otherwise, move to next step.

Click on the Advance Search icon and then, hit on Emails checkbox. Ensure that you disable all other checkboxes in Search In column.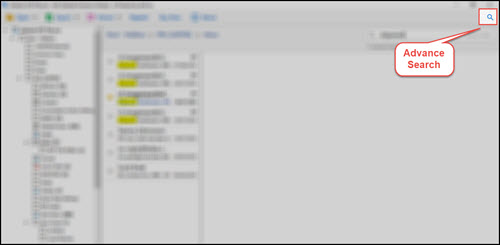 Search Outlook emails by time by using Time From To field (as highlighted in screenshot). Enter the desired time (and date, if required) for task accomplishment.

Hit on Find button to initiate the procedure and supervise only those messages with or without attachments that are required.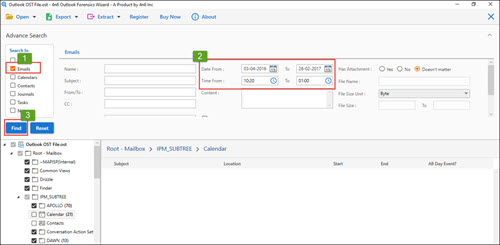 Finally, it is complete! The freeware features an intuitive interface that is suitable for technical, non-technical, and professional users. The best feature of software is that it adheres to its promises. You can retrieve your filtered Outlook emails by time in a few simple steps.
Watch the video to learn the easy tutorial:
Try it For Yourself
Additionally, the user can use the tool's demo version to search for ten Outlook emails by date. It is an excellent choice for many. The free trial version enables the user to fully understand the product's operation and features. Once satisfied, activate the program's licence key to conduct an unlimited number of Outlook email searches by date.
Top 8 Benefits of using Outlook Email Search Tool
The software works quickly and searches emails in Outlook by time, date, etc.
Individuals can operate it on PCs having Windows 10, 8.1, 8, and below editions.
Holds an easy-to-use interface, making it simple to understand software's layout.
Officials can use this solution to search Outlook emails in all of its available versions.
Additional option to archive messages with attachments in PDF or any other format.
Does not have any restriction on file size to search emails on basis of time & date
Embedded with a Compact View feature to hide unwanted system or sub-folders.
Preview an email in more than 3 styles like normal, header properties, Hex view.
Similarly Read

Search Email Content in Outlook
FAQ's
Question 1: How can I search sent Microsoft Outlook emails by time ?
Answer 1: Follow the steps given in this post (with screenshots) to search Outlook emails by time and date.
Question 2: Can I search Outlook emails between a particular time ?
Answer 2: Yes, using Outlook Email Search Tool, you can easily search Outlook emails between particular time.
Question 3: I want to search received Outlook emails by time ? Is it possible with the software ?
Answer 3: Yes, the product is capable to search received Outlook emails by time.
The Conclusion
The preceding blog discusses the optimal method for having to search Outlook emails by time. It prioritizes emails from Microsoft Outlook 2019, 2016, 2013, and others. This method is accessible to any user who wishes to simplify their task and obtain accurate results.